After 2yrs ago of using GNOME and fishing out fonts that look good on it, in my adventue on KDE Plasma, I found fonts too that can make Plasma look more sleek! Guess it's been my mission to find fresh fonts even with my hate for UI 😀
So, again I found 3 fonts for KDE Plasma that you might love to try out. These are smooth non-cursive  fonts
Roboto has a dual nature. It has a mechanical skeleton and the forms are largely geometric. At the same time, the font features friendly and open curves. While some grotesks distort their letterforms to force a rigid rhythm, Roboto doesn't compromise, allowing letters to be settled into their natural width. This makes for a more natural reading rhythm more commonly found in humanist and serif types.
Installation:
DNF
$ sudo dnf install google-roboto-fonts
APT
$ sudo apt install fonts-roboto
Source Sans Pro is a sans serif typeface created by Paul D. Hunt for Adobe Systems.[1] It is the first open-source font family from Adobe, distributed under the SIL Open Font License.
The typeface is inspired by the forms of the American Type Founders' gothics by Morris Fuller Benton, such as News Gothic, Lightline Gothic and Franklin Gothic, modified with both a larger x-height and character width and more humanist-influenced italic forms. It is available in six weights (Regular, ExtraLight, Light, Semibold, Bold, Black) in upright and italic styles. The typeface has wide language support for Latin script, including Western and Eastern European languages, Vietnamese, pinyin Romanization of Chinese, and Navajo.
Installation
DNF
$ sudo dnf install adobe-source-sans-pro-fonts
APT
Oops! Sorry, couldn't find it on Debian repo. Get from GitHub, could be on Ubuntu repo, not sure 🙂
Myriad Web Pro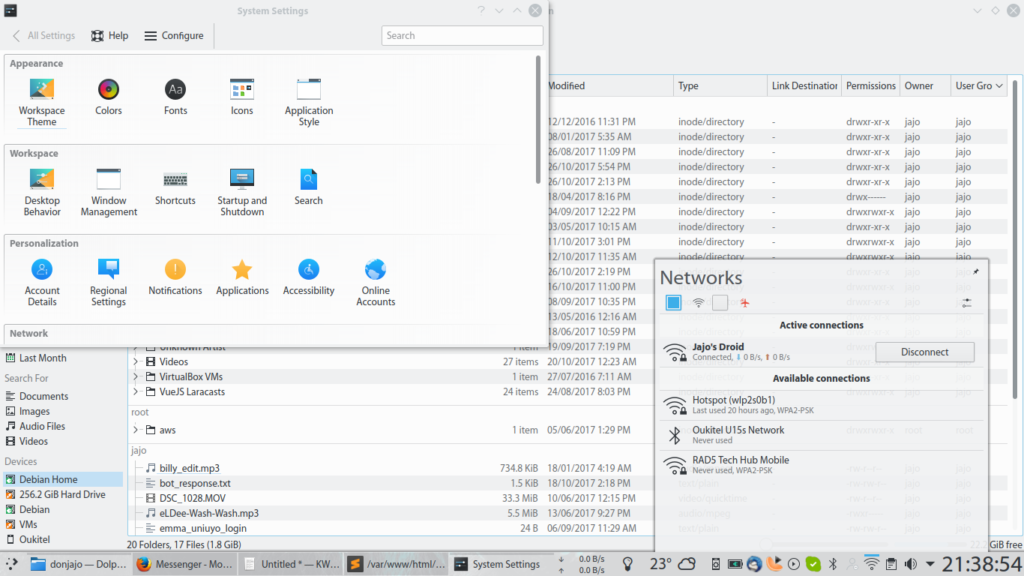 Myriad Web is a version of Myriad in TrueType font format, optimized for onscreen use. It supports Adobe CE and Adobe Western 2 character sets. Myriad Web comprises only five fonts: Myriad Web Pro Bold, Myriad Web Pro Regular, Myriad Web Pro Condensed Italic, Myriad Web Pro Condensed, Myriad Web Pro Italic. Myriad Web Pro is slightly wider than Myriad Pro, while the width of Myriad Web Pro Condensed is between Myriad Pro Condensed and Myriad Pro SemiCondensed.
The family is bundled as part of the Adobe Web Type Pro font pack.
Installation
Okay, this is a paid font, so lets not bother looking for it on repositories. I know somehow you can get it. I mean, this is Internet 😉
So this is what I have for KDE Plasma, try them out. If you have an addition, please comment 🙂